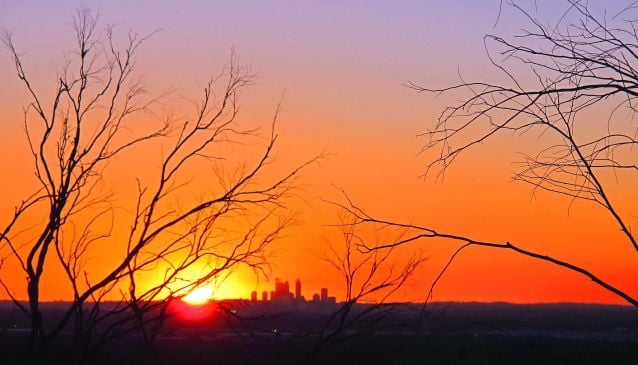 The Best Free Views in Perth - Part II
Adventure
Here are some of our favourite free views of Perth - south and east of the Swan River
Want to take in some of the best free views of beautiful Perth? Everyone has his or her favourite spot and here are ours:
1. South Perth Esplanade (South Perth)
This long stretch of green that hugs the Swan River is a popular picnic and play area. It can get pretty crowded on sunny weekends and public holidays. It is one of the best spots to take in the spectacular firework display, the City Of Perth Skyworks, which takes place every Australia Day. A playground, public toilets and a public car park near the Mends Street Jetty are located closeby. The Transperth Ferry runs regularly between the jetties of Mends Street and Barrack Square. Check out Getting Around Perth to obtain more information on ferry timetables. A historical attraction, the Old Mill is located on Mill Point Road which is at the start of South Perth Esplanade. Cafes and restaurants are aplenty at nearby Mends Street. Great views of the Perth city skyline are yours to savour from practically anywhere along the esplanade. And if you're lucky, you might see some of Perth's iconic black swans swimming by.
2. Point Heathcote Reserve (Duncraig Road, Applecross)
This 8 hectare reserve offers one of the best 180 degree views of Perth as it is perched high on a hill overlooking the exclusive Swan River lined suburbs of South Perth, Como, Dalkeith and Crawley. You can also see Kings Park and the Perth city skyline in the distance. With its landscaped gardens, great views and heritage buildings, it is no wonder that Point Heathcote is extremely popular with wedding couples and high school ball/prom students, all eager to have their photographs taken.
There is an award-winning playground featuring a large wooden pirates' ship which many kids would enjoy exploring. Picnic tables, barbecue pits, public toilets, an upmarket restaurant and a kiosk that sells coffee, ice cream and cakes are situated here. In 1827, Captain James Stirling, landed and camped at Point Heathcote while he was exploring the Swan River.
The beautifully restored heritage buildings that you see at the reserve used to house the Heathcote Mental Reception Home, which was Western Australia's first mental health facility that catered for patients who were 'mildly afflicted'. The Home, which opened in the 1920's, offered a new way in the treatment and housing of patients with mental illnesses. It closed in 1994. The former mental health facility is now home to the Heathcote Cultural Precinct which includes the Heathcote Museum and Gallery. Various exhibits provide information on the former staff and residents of the mental home; the medical equipment and treatment that were used at that time are also on display. Art exhibitions are held regularly in the building. Parking is often an issue on weekends and public holidays as many families love to relax here and enjoy their picnic lunches and afternoon teas.
3. Monument Hill (cnr of High Street and Bateman Street, Fremantle)
Monument Hill offers one of the best views available as it is the highest natural point in Fremantle. It is about 43 metres (141 feet) above sea level. You will enjoy an uninterrupted 360 degree panoramic view of the Fremantle port area and surrounding suburbs here. With its beautiful landscaped garden, green grassy slopes and quiet, peaceful setting, Monument Hill makes a good stop to relax and take in the scenery too.
Since the early days of British colonisation, it has remained a popular lookout point for both visitors and locals alike. Its inception was in 1928 and its memorials were erected to commemorate the memory of men and women, who had sacrificed their lives in several wars. The main memorial, which stands at 14 metres, is made of Donnybrook stone and was erected in 1928 to honour the 59,330 Australians who lost their lives or were reported as 'Missing in action' in WW1. This monument was built and funded by the people of Fremantle. Several of the other smaller monuments were later erected to pay tribute to Australian, Dutch and American naval personnel who died in WW2.
4. Wireless Hill (Almondbury Road,Ardross)
Wireless Hill is located in 38 hectare Wireless Hill Park in the southern suburb of Ardross. It was built in 1912 by Germany's Telefunken and Co and funded by the Federal Government. It served as one of Australia's earliest Telecommunication stations and was used in WW1 and WW2. The Applecross Wireless Station, as it was called, became widely known as the 'Perth Wireless Station'. Morse code and an aerial that was 112 metres tall were used to communicate with offshore ships as well as bases in the Antarctic. Medical advice was transmitted to vessels that lacked doctors. The observation towers that you see today were the anchor blocks for the aerial. The Wireless Hill telecommunication station also made it possible for the east and west coasts of Australia to communicate with each other for the first time. In addition, mainland Australia could now communicate with ships up to 1600km into the Indian and Southern Oceans. The station was vacated in 1959 and decommissioned in 1967.
Wireless Hill's observation towers provide 360 degree views of the surrounding area. You can see Perth city, Melville Waters and the surrounding suburbs from these towers. It also has lookouts, an extensive network of walking trails that cater for varying levels of fitness, the Wireless Hill Telecommunications Museum that occupies the original telecommunication generator room, a caretaker's cottage and several other structures of historical significance. The exhibits provide information on the history of the area, the equipment that was used and the station's role in the history of Australian telecommunication. Wireless Hill Park is also well known for its native wildflowers, which burst into colour all over the bushland in Spring. Orchids and WA's floral emblem, the Red and Green Kangaroo Paw, can be seen in full bloom then. Birdwatchers, bushwalkers, wildflower enthusiasts and photography buffs will enjoy exploring the trails in this park.
5. Zig Zag Scenic Drive (Gooseberry Hill)
The Zig Zag Scenic Drive is a one-way bitumen road with several hairpin bends. It is located in Gooseberry Hill National Park, one of the most scenic places in Perth. This narrow 3 km road that twists and turns down the Darling Scarp, provides an impressive panoramic view across the coastal plain right down to the Indian Ocean. And on a clear day, you will not only see the skyscrapers of Perth CBD but even Rottnest Island in the blue waters of Ocean. The Darling Scarp forms the western line of cliffs of the Darling Range, an ancient 300km line of hills that lie 25km east of Perth. It runs parallel to the coast. Areas on or behind this scarp are known as the Perth Hills or 'The Hills' and include suburbs such as Gooseberry Hill, Kalamunda and Bickley. The Darling plateau forms the summit of the scarp and it rises, on average, approximately 450 metres above sea level. The scarp began to form about 570 million years ago. Fused granite and greenstones make up most of its crust. Other rocks found here like granite, quartzite and gneisses are more 2500 million years old. You'll see many beautiful, secluded houses nestled amongst the eucalyptus trees, wildflowers and grass trees here. Creatures such as kangaroos, lizards and birds are common. The Gooseberry Hill National Park has several walking trails and a few disused quarries. You can find cafes, specialty shops, local art and craft shops and other facilities in the nearby town centre of pretty Kalamunda. Watching the sun set over Perth and its surrounds from the Darling Scarp is a favoured evening activity of locals.
The Zig Zag Scenic Drive was originally part of a railway line that was used to transport timber from the summit of the escarpment to the industrial and business centre of Midland. The train line was constructed in 1903.Due to the steep gradient of the escarpment, zig zags i.e. a series of switching points, were needed to shunt the trains in a zigzag manner up and down the slopes. The tracks were removed in 1952 after the timber industry had closed down and this former stretch of the line became a scenic drive. Local residents organise the annual Zig Zag Festival. This event is takes place on the first Sunday in October. On this day, the Zig Zag Scenic Drive is closed to vehicles and a public walk involving masses of people will make their way down the entire road. All kinds of events and performances celebrating Spring take place then.
You can enter the Zig Zag via Gooseberry Hill Road, Williams Street and Laschelles Parade. It exits at Ridge Hill Road. It will take you approximately 40 minutes (about 30km) to drive from the Perth CBD to the start of the Scenic Drive. Please observe the speed limits and be mindful of other drivers, cyclists and pedestrians on this narrow road.
We hope you enjoyed this article and if you want to know when our next one is coming out, please go to My Guide Perth's Facebook page and 'like' us to receive updates. Happy viewing!