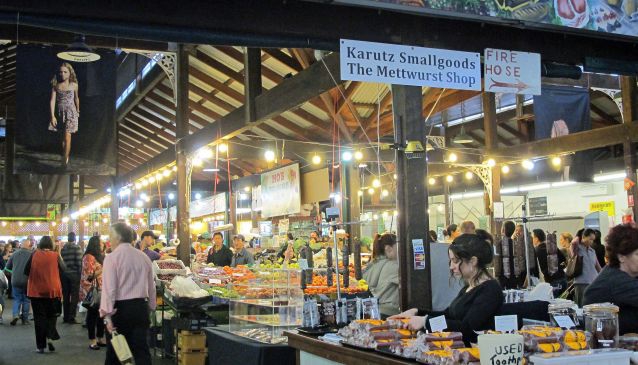 Free Things To Do In Perth
Editorial
...several of Perth's art galleries and museums offer free admission
You've spent almost all your mullah on Perth's shopping, restaurants, things to do and nightlife? And gasp…there are still days to go before your trip ends. Yes, we've all been there and done exactly that, so here's our list of free activities that should keep you occupied in this beautiful city till the end of your holiday.
1. Guided tours
Perth offers a variety of guided walking tours that are absolutely free. These are led by enthusiastic volunteers who often possess a wealth of knowledge about their respective places of interest. We've had many enjoyable moments while on one of these free tours. Perth's most iconic tourist attraction, Kings Park and Botanic Gardens, offers several free guided tours. These operate daily except for Christmas Day and when Perth's normally beautiful Mediterranean weather turns nasty. Depending on the season and weather, these tours will take you through some of the most scenic parts of this mega huge inner city park. And if you go in September, you'll be able to enjoy one of Kings Park's famous wildflower guided walks. Kings Park's guided tours last from 90 minutes to 2 hours 30 minutes.
Another good option is to join the free walking tours conducted by yet another passionate group of volunteers, the i-City Volunteer Hosts, whose love for Perth is obvious. These tours are on every day with the exception of public holidays. A variety of walks, each with its own theme and special area of focus, is available. If you're keen to go on one of these tours, just turn up at the appointed time and wait in front of the City of Perth Information Kiosk at Murray Street Mall, near Forrest Place. You will often see a crowd of tourists lining up to get free maps and brochures or ask questions at this small booth. These tours usually last about 2 hours.
Please check the relevant websites for information on the timing of all these tours. Do dress comfortably, put on a good pair of walking shoes, slip a hat on, slop on your sunscreen, and look cool in your sunnies (sunglasses).
2. CAT buses
If you prefer to see the city from the comfort of a bus, then hop onto one of the free CAT (Central Area Transit) buses that ply the CBDs of Perth, Fremantle and Joondalup. The buses are colour-coded according to the routes they serve and for your convenience, just press the information button located at your CAT bus stop, to find out when the next CAT bus will arrive. The CATs are high frequency buses that generally arrive every 5 to 15 minutes, depending on the route, weather and traffic situation. Please click on this for more information on routes and times.
Enjoy the ride!
3. Markets & Festivals
Perth has a plethora of markets ranging from weekend markets, farmers' markets, flea markets, festival markets, designer markets and street markets. There's of course no guarantee that you'll manage to leave these markets with your wallet full of unspent cash. We've spent many an interesting day at these markets browsing at the stalls, tasting the delectable morsels being sold there, admiring the hand-made wares and salivating at the home-grown fresh local produce. And you might even get some entertainment from the talented street buskers at these places. Check out our page for more info.
Perth has many events and festivals that take place throughout the year, particularly during the busy spring, summer and autumn seasons. These festivals range from community centred ones, street festivals, and seasonal or thematic events such as the Jacaranda Festival which celebrates the beautiful purple blooms of the Jacaranda trees; or the arts focussed ones such as the Perth International Arts Festival, Fremantle Festival and Fringe World. You'll find loads of fascinating free public events to keep you and your family entertained at these festivals. Music and dance performances, talks, exhibitions and displays are the norm at many of these well organised events.
4. Museums & Art Galleries
Art lovers, culture fans and history buffs will be happy to know that several of Perth's art galleries and museums offer free admission. Sometimes an optional, but much appreciated gold coin donation of a few dollars, is requested. These donations go towards the upkeep of the buildings and administrative costs. Admission fees are usually charged for special exhibitions, especially those on tour.
If you're keen to know more about Perth's history and its indigenous culture, then check out the Western Australian Museum. You can also learn more about WA's geology, biodiversity, flora and fauna here. In addition, there's a Discovery Centre where you can indulge in some 'hands on' learning. But if you're more into all things maritime, then hop over to Fremantle's Shipwreck Galleries which is renowned as being the best Maritime Archaeology Museum in the Southern Hemisphere. It has numerous relics salvaged from ships that all met their fate in the waters off WA's treacherous coastline.
The Fire Safety Education Centre and Museum, located at the corner of Irwin and Murray Streets in the heart of Perth's CBD, is Perth's first fire station and still fondly referred to as "The Old Fire Station" by locals. This museum highlights the history of fire fighting in WA for the past 140 years. Tools and equipment are displayed. Photographs, uniforms and vehicles are also featured in this well preserved, two-storey heritage building. Parents will be pleased to know that a major aim of this centre is the education of children in fire prevention and safety. This centre is open from 10am to 3pm daily.
Regional museums, located in Perth's suburbs, such as the Subiaco Museum, Mount Flora Regional Museum and Wanneroo Museum all highlight the history of their surrounds. You'll find artefacts, 3D model displays, documents and photographs on display at these places which are often manned by local volunteer residents.
If art is more your cup of tea, then why not spend an afternoon or two, admiring the collections at the Art Gallery of Western Australia, Perth Institute of Contemporary Art (PICA) and Fremantle Arts Centre? These galleries do not charge admission fees and visitors are most welcome to browse. Besides these, there are numerous commercial art galleries and artists' studios that may be most happy to let you spend a peaceful hour or two just admiring their pieces. However, please note that some galleries require you to make an appointment beforehand.
5. Perth Airport Viewing Gallery
Plane spotters, photographers and kids will enjoy visiting one of Perth's unique free experiences. This is an open-air public viewing platform that allows you to watch aircraft landing and taking off without being visually obstructed by windows, pillars and other such structures. You can get more information and driving directions from our page
Enjoy!
If you enjoyed reading this article and would like to receive updates on new ones coming out, please go to our Facebook page and like us. Thanks!