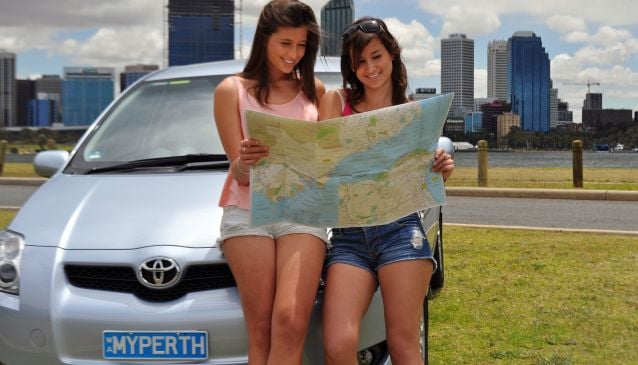 A Perthfect Day: Girls' Day Out in Perth
Inspiration
Kings Park might turn out to be one of the best holiday experiences you've ever had
What's the perfect day out for a couple of female travellers who want to take in as many sights as they can, on their first day in Perth, and yet have time to enjoy a few of life's little pleasures? If you feel the same way as our two explorers, why not join us on this self-drive tour that will help you get a little more acquainted with our pretty city. You'll need your own set of wheels so do book your car first. Then take a look at My Guide's Driving Around Perth page for information on doing just that. Once you've got an updated GPS or a good map, off you go!
We picked a beautiful Friday in September for your 'one day speed date' with Perth. And here's what you'd probably see on your self-drive tour in Australia's sunniest and windiest city:
8.30am: Breakfast at Theobroma Chocolate Lounge, Brookfield Place
Nothing is more important than having a good 'brekkie' (breakfast) to set the tone for the rest of this action packed day. If you love chocolate and coffee like our two girls, then we suggest Theobroma Chocolate Lounge in Brookfield Place. It's right in the heart of Perth's Central Business District (CBD), near the corner of St Georges Terrace and King Street. This snazzy, bright, new lounge is located in a magnificently restored heritage building that used to house The Old Perth Technical College. We recommend the delicious Eggs Benedict and of course a coffee or chocolate drink to wash it all down. We're pretty sure that Theobroma's wide range of caffeine fixes will soon be a hit with Perth's sleep deprived working crowd. At last count, there were 24 kinds of chocolate drinks, 14 variations of coffee, 8 teas and also rich chocolatey fondue, chocolate cakes, chocolate pudding, chocolate mousse, chocolate brownies and even chocolate pizza… most impressive.
9.30am: A Walk in Kings Park
You might just have the urge to dance around Perth's CBD after consuming all that caffeine and chocolate but we recommend dancing in Kings Park instead. It's way more scenic and with all that space - 406 hectares (1004 acres), you're less likely to bump into someone. Perth's Kings Park and Botanic Gardens is constantly described as "The Crown Jewel of Perth", "The Soul of Perth" and "Australia's Central Park", among other similar accolades. Once you get there, you'll understand why. There's so much to see and love about this vast bushland park which is home to at least 310 species of native plants and 80 kinds of birds. To visit Perth and not see Kings Park is like giving the Eiffel Tower a complete miss when you're in Paris.
It should take you about 10 minutes, subject to morning traffic, to drive the short distance (3.4km) from Theobroma's to Kings Park via St Georges Terrace, Malcolm Street and Fraser Avenue. You'll know you've arrived at Kings Park when you see the stunning views of Perth's CBD from magnificent Eucalyptus tree lined Fraser Avenue. It's usually easy to get a car park space during the week. Parking is free. We suggest first going to the visitors' centre to get some maps, brochures and up-to-date information on the many different guided and self-guided walks available. These free walks can last from an hour to three hours. The park is wonderful to visit any time of the year but it's particularly colourful in Spring. And if you're a nature lover, flower enthusiast cum photography buff, Kings Park during its most vibrant season might turn out to be one of the best holiday experiences you've ever had.
Right through the whole month of September, special Wilderness & Wildflowers walks are held daily at 10:00 and 14:00 and last 90 minutes. These walks will take you through the best spots in the park where some of WA's unique wildflowers will be in full bloom. September is also the time when Kings Park holds its annual month long Wildflower Festival. Loads of special events, performances, concerts, talks and exhibitions are held and most are free. Do make sure that you have your camera all set up to take lots of photographs of the Perth city skyline and the Swan River. Many locals and visitors will tell you that Kings Park offers some of the Best Free Views of Perth.
1pm: Picnic Lunch at South Perth Esplanade
After you've seen the majestic Swan River from high up above, more river views from a closer perspective might just be the next thing to do. We've got another uniquely Perthian experience planned for you - a picnic lunch by the Swan River at the South Perth Esplanade. It should take you about 10 minutes to drive from Kings Park to your lunch buying stop at Mends Street in South Perth via the Mitchell and Kwinana Freeways. South Perth is a picturesque river lined suburb and on the way there, you'll see the Old Mill on Mill Point Road. This mill was built in the 1830's and had the capacity to produce 680 kg (1500 lbs) of flour a day. It now houses a cosy museum that highlights the history of the site and displays tools and machinery used by millers of the past.
Continue driving along Mill Point Road till you spot leafy cafe lined Mends Street. You should be able to buy your picnic lunch supplies from the eateries or supermarket located there. Our girls' favourite treats are freshly baked pastries, muffins, drinks and some plump juicy strawberries. Once you've sorted out that all important lunch menu, the next thing to do is to find the perfect picnic spot. If you drive along South Perth Esplanade, you should find a very, very large perfect picnic spot. Great views of the Perth city skyline are yours to savour from practically anywhere along this long, river hugging esplanade. And if you're lucky, you might have an extra guest at your picnic. Some of Perth's iconic black swans reside here and they are often seen swimming gracefully in the Swan. Here's our tip for photographers: take a shot of the black swans in the Swan River with the Perth city skyline and its clear blue skies as the backdrop. Stunning.
2pm: Sunset Coast Beaches via Mounts Bay Road
Now that you've seen Kings Park and the Swan River, the next 'must-see' on the itinerary is Perth's Sunset Coast. This beautiful coastline stretches from Cottesloe Beach to Two Rocks. It's approximately 50km long and consists of 19 metropolitan beaches that continue on and on.
We suggest taking the scenic route via Mounts Bay Road to get to Cottesloe Beach which is your first stop on the Sunset Coast. After driving for a short distance on Mounts Bay Road, you'll pass two of Perth's most photographed landmarks. The first one you'll see is Eliza, a bronze statue of a female swimmer about to dive off into the water. Depending on what major public event is on, which season it is or who does the dressing, you'll see Eliza clothed in various attire and accessories. Apparently Eliza has access to a pretty large wardrobe and being a typical female, she never likes being seen in the same garb for too long. Various pranksters have dressed her in outfits ranging from an exclusive private boys' school uniform to a Santa Claus outfit with a beard and even an outfit fit for the Melbourne Cup, complete with fascinators!
The next much photographed landmark that you'll pass is the Matilda Bay Boathouse also known as the Crawley Edge Boatshed. This boathouse is thought to have been built in the early 1930's and continues to be the subject of countless photographers, all hoping to take the perfect shot of this lone building with its long wooden walkway, set against the clear blue sky and tranquil waters of the Swan River. And if you're really serious about your photography, then dawn or dusk would probably be the best time to take that prize winning shot.
After you've taken your photos, keep going on Mounts Bay Road – it'll continue to become the Stirling Highway (in the direction of Fremantle). When you get to the junction of Stirling Highway and Eric Street turn right. This will lead you to pretty Cottesloe Beach with its pine trees, green grassy slopes and beach cafes. Free public parking is available at Marine Parade near a distinctive large yellowish building that's right next to the beach. This is the Indiana, formerly known as the Indiana Tea House and it was built in 1910. It is yet another iconic landmark of Perth and much photographed. If you have time, we recommend returning another day to watch the sun setting over the azure blue Indian Ocean. With 12,889 km (about 80087mls) of mainland coastline, West Australians are certainly spoilt for choice when it comes to picking a spot from which to watch the magnificent evening sunsets that usually take place at the end of each day. You can get good views from the groyne (groin in American English) too.
The next famous beach on the itinerary is Scarborough which is about a 15 minute (12km) drive from Cottesloe. Scarborough is popular with surfers and free public parking available there. To get to Scarborough, you'd have to get back onto Eric Street and then turn left at Curtin Avenue and continue down the West Coast Highway which will bring you there. And like many visitors, our girls were so tempted by the beautiful weather and blue waters that they just had to weave in some boogie boarding.
Our final stop on the Sunset Coast is Hillary's Boat Harbour. To get there, continue down the West Coast Highway and turn left into Karrinyup Road at the traffic light controlled 4 track junction. At the end of this road, turn right onto West Coast Drive. This will bring you to Hillarys Boat Harbour. You'll find many retail outlets, restaurants, cafes and nightspots located along the boardwalk; and with the boats berthed at the marina here, Hillarys is a picturesque place to spend an afternoon. Tourist attractions such as The Aquarium of Western Australia (AQWA) and The Great Escape Leisure Park (a water theme park) will keep energetic visitors happy too.
5pm: Shopping at King Street
Of course the day wouldn't be complete without some shopping. Every red blooded shopaholic knows that. Perth has many shopping options from malls to weekend markets, and specialty stores to a short, interesting street that's packed with exclusive, upmarket designer outlets. And what's the name of this road? It's King Street. You and your money will be parted soon. And even if you're not into shopping, window shopping and browsing will do just fine here. Another thing, King Street makes a good photo shoot with its heritage buildings, narrow cobble-stoned back lanes embellished with street art and well placed signage of international brands such as Chanel, Gucci, Tiffany & Co, Bally, Georg Jensen, Sass & Bide, Kookai and Louis Vuitton. Famous West Australian fashion retailer Wheels & Dollbaby and jeweller Kailis are also conveniently clustered here. And guess what? Most shops in the CBD close later (usually between 7 - 8pm) every Friday evening. To get to King Street from Hillarys Boat Harbour, first get onto Hepburn Avenue and then take the exit for the Mitchell Freeway, this will bring you to Perth's CBD where King Street is located.
8pm: Dinner
After all that shopping, your hunger pangs must be in full force by now so why not have dinner at one of Perth's many Restaurants? There are tons of options available be it a pizza or gourmet burger, Modern Australian or Chinese or vegetarian meal that you're after. Chomp away.
10pm: Nightlife
There's no way two lively, energetic young girls are going to bed at 10pm so you know what that means: it's painting Perth red time! Whoever said that Perth is dullsville by night obviously didn't know where to go. But we do. Perth's small bar scene has really taken off within the last year or so. You'll find both snazzy, posh drinking spots as well as funky, hip bars that wouldn't be out of place in sophisticated cities like Melbourne and Sydney. And if you prefer dancing the night away, then wander through our nightclubs and see what strikes your fancy. And that's not all, you can also catch a music or dance performance or watch a play. The night is yours. Enjoy.
If you like this article and would like to receive updates on new ones coming out, please go to our My Guide Perth Facebook page and 'like' us. Thanks!

View A Perthfect Day in a larger map