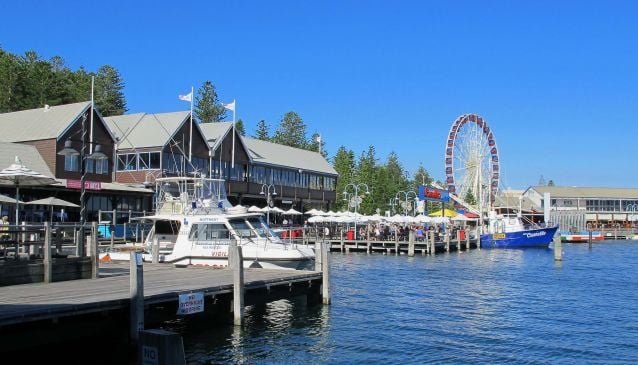 Feelin' Fine in Freo
Arts & Culture
Visit The Round House, WA's oldest public building and fire the cannon!
History
Fremantle, or 'Freo', has built up quite a feast of history and places to explore since being inhabited in 1829.
The Round House is the oldest building in Western Australia. Built by convicts, it opened in 1831 as a jail and has since become a popular tourist attraction, whilst holding sweeping panoramic views. Fremantle Prison was also built by convict labour in the 1850s and remains as a historical sight and tourist attraction offering fascinating tunnel tours.
Being the foremost maritime archaeology museum in the southern hemisphere and the original Maritime Museum, the Shipwreck Museum features displays of shipwrecks and early exploitation of Fremantle from 17th Century, whilst the new Maritime Museum tells Western Australia's rich and extensive maritime history.
History also lies amongst Monument Hill, an A class heritage reserve designed as part of the Central War Memorial, it has remained largely unchanged since 1928. The Army Museum of WA showcases a display of Australian military history, including weapons, uniforms and medals.
Art & Culture
With Freo's renowned bohemian, artsy and free-spirited vibe, it is the ideal place to check out some art and culture. Nestled in Finnerty Street, Fremantle Arts Centre stands as a multi-arts organisation operating exhibitions, events, learning activities and a little shop. Contemporary art from local, national and international practitioners is displayed in the centre's exhibitions. Weekend workshops and mid-week classes are run for children and adults, and the centre has become a premiere venue for Australian and international musicians, with artists including the likes of Elvis Costello, Paul Weller and Groove Armada having played there.
Fremantle also offers up a list of galleries, displaying fine art, contemporary art and sculptures. The Moore's Building Contemporary Art Gallery is a heritage-listed site displaying a diverse range of contemporary art and is an important part of Fremantle's art community. Japingka Gallery exhibits indigenous fine art from recognised and emerging talents and holds constant displays in its historic two-storey warehouse. Public art including statues can be seen all over Fremantle, including works by Greg James (most famous for the ACDC statue in Fremantle Fishing Boat Harbour) and Pietro Porcelli.
Shopping
Open 7 days a week and for late-nights on a Friday, Fremantle provides various shops with great diversity to tickle your fancy. From 'The Pickled Fairy', providing all of your fairy needs in a magical wonderland, to 'Didgeridoo Breath', where you can learn to play the wind instrument amongst the planet's largest selection of crafted didgeridoos. 'Omkara Earth & Space Wear' provides ethically conscious designer clothing, whilst 'She Seldom Blushes' stocks vintage and retro treasures as well as locally-made jewellery. A good selection of unique world, eco and mystical stores can be found throughout the city, as well as the usual high-street stores. For the sweet tooth's 'Fremantle Chocolate' serves up handmade Australian delights, and for the traveller, 'The Chart & Map Shop' is a treasure chest of thousands of charts, maps, travel guides, books, maps, flags and accessories.
Fremantle Market consists of over 150 stalls providing freshly made local food, fashion, jewellery, health and beauty, home wares, toys, music, photography and much, much more. You can even pop down to the market and have a massage or come back with a tattoo.
With its unique appeal, the E Shed is the only waterfront market in Western Australia. Comprising of over 100 stalls, at the market you can find products including didgeridoos, souvenirs, local arts and crafts, furniture, jewellery and fashion. Or you could take a seat in the International Food Court, where a wide variety of cuisine is available.
Restaurants
The city's multicultural mix can be seen through its cuisine, with over 60 restaurants scattered amongst the streets providing food from all over the globe, with the likes of Thai, Greek, Turkish and Australian eateries. The strong Italian influence in Fremantle is evident in the city's pizza and pasta restaurants, not to mention the gelato outlets too. Dotted amongst Fremantle's lively Fishing Boat Harbour, you will also find a range of the most popular seafood restaurants, with delights caught right from the Indian Ocean.
'Cappuccino Strip' is renowned for being a popular eating destination in the city, it is even known internationally for its ability to suit all budgets and taste buds. You can choose from high quality restaurants to casual cafes. It is a haven for street performers and people watchers. The strip also offers up stylish microbreweries, producing their very own range of amber ales. You can also get your hands on a range of food at Fremantle's markets.
Festivals and events
No matter the season, celebrations and festivals are taking place throughout the year in the Fremantle community. Every November sees the Fremantle Festival, brimming with street and cabaret performers, music, parades, colour and merriness. The festival also sees the celebration of Wardarnji aboriginal culture, with the custodians of the land inviting you to join them in their ancestral lands and spiritual home on the Swan River.
Hulbert Street Sustainability Fiesta is held every year in September and allows for locals and tourists to celebrate sustainable changes they have made. Fremantle is very eco-conscious and forward-thinking in green and sustainable living, so the festival is very apt. Homes and gardens open up to the some 6,500 visitors to the festival along Hulbert Street with tasty food stalls, artists and sustainable product stalls being available.
There are also several other festivals including The East Fremantle Festival, The Nectar Festival, the Street Arts Festival (Australia's largest street arts celebration), the Heritage Festival and the "Blessing of the Fleet" (celebrated in the Italian fishing community through the streets of the Fishing Boat Harbour). Food, film, music, and children's fiestas are also held throughout the year, including Araluen's Fremantle Chilli Festival and the West Coast Blues & Roots Festival, making Fremantle a lively and social city.
Nightlife and music
The night in Fremantle is just as vibrant and lively as the day, with several clubs playing live music until the early hours. It is a city very much dedicated to dance and diverse music, which can be enjoyed all the way through from the buskers at the weekend markets to the community dance events and concerts. Small bars and pubs scatter the streets of Fremantle, as well as the city's two main nightclubs, The Clink and Metropolis, both situated on South Terrace. If comedy clubs is more your thing then the Crackerjack Comedy Club offers live acts, stand-up comedy and even bowling!
Getting around Freo
Getting around Fremantle is pretty easy, and some of it is even free. The CAT (Central Area Transport) bus is a free service, running every ten minutes during daylight hours with 27 stops around the area. Apart from walking, it is the easiest way to get around Freo. The buses start and finish at the end of the high street, just outside of the bus/train station and are easy to spot (being bright orange). They are also wheelchair and pram accessible. Night buses run on Saturday nights at 1am, 2am, 3am and 4am. The roads are mostly flat in Freo, so walking is also a very pleasant way to see the city.
Fremantle Tram offers daily guided tours, with an informed driver telling you all there is to know about the area. Bicycle and car hire is also available, but if you are after something a little different, Scoot Freo on Phillimore Street provides two-seater scoot cars to cruise around the city in.